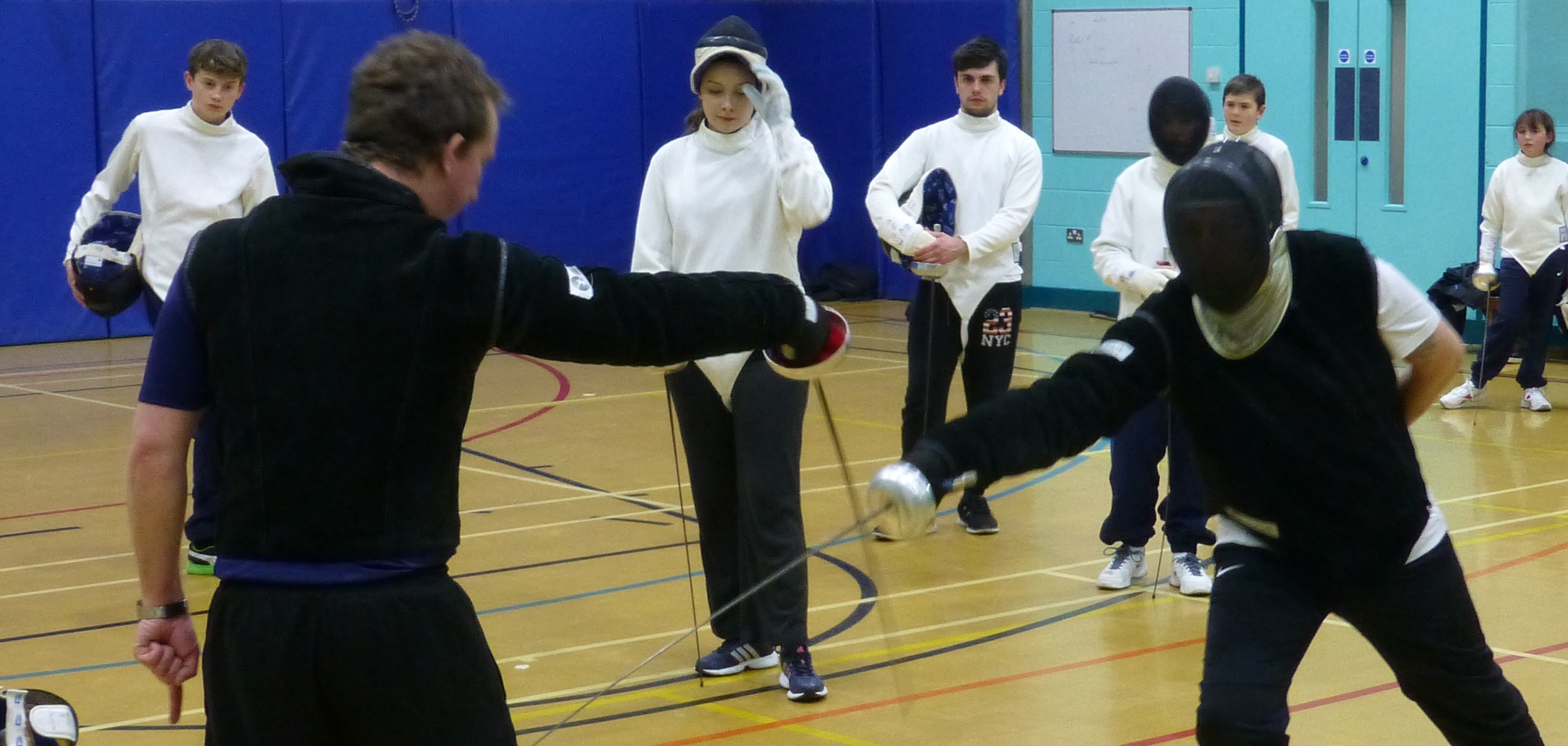 Our first classes were held back in September 2003 and were a great success. Reading Fencing Club is still receiving strong interest from people new to the sport. Bookings are taken on a continual basis all year round.
The latest members of the Beginners Course are pictured above and previous graduates can be found here.
There are a total of 24 spaces on each beginners course; each course that we run is usually fully booked, with many of our past graduates practising amongst our senior members.
When are the courses?
Our courses run every Monday from 19:30 to 21:00.
What do I need?
Not a great deal. In fact, we advise beginners not to buy any of their own kit whilst doing the course. We provide you with all the equipment you need for the 10 weeks. All you need to do is wear loose-fitting (not denim) trousers, a t-shirt and non-marking trainers. It's also a good idea to bring a drink with you, as well as a change of clothes to each session.
Once the course is over, we have a club discount with a number of equipment suppliers.
What is covered in our beginner course
Once you've signed up for a beginners class, we'll invite you to attend a Taster Session where you can have a go at fencing, learn the basic safety information, foot- and blade- work skills.
If you decide to continue with the course, which we hope you will, you can continue with the remaining classes.
Each week's session is planned in advance and follows a fixed content, giving you a good understanding of the sport. At the end of the course all students take their Grade 1 Épée Assessment (the cost of which is included in the course fee).
For a full syllabus of what is covered please read our beginners course program (as docx) (opens a new window).
Latest course information
Our beginner's course has started already and will be followed by the intermediate course.
| | | | |
| --- | --- | --- | --- |
| 2022-09-05 | Beginner course | 18 places remaining | [book now] |
Enrol is easy
Fill in our membership form
Contact us to book your place on the course.
Pay for the course (details in the section below).
How much does a fencing course cost?
The course fee is a flat-rate fee, which covers all the tuition of your classes, the equipment that you use, and also helps us to cover for the cost of any equipment that may become damaged or broken.
Please help us make our courses better
If you've recently completed one of our courses, we'd love to hear your feedback so we can improve them in the future. Please fill in our online survey, it shouldn't take more than a few minutes.