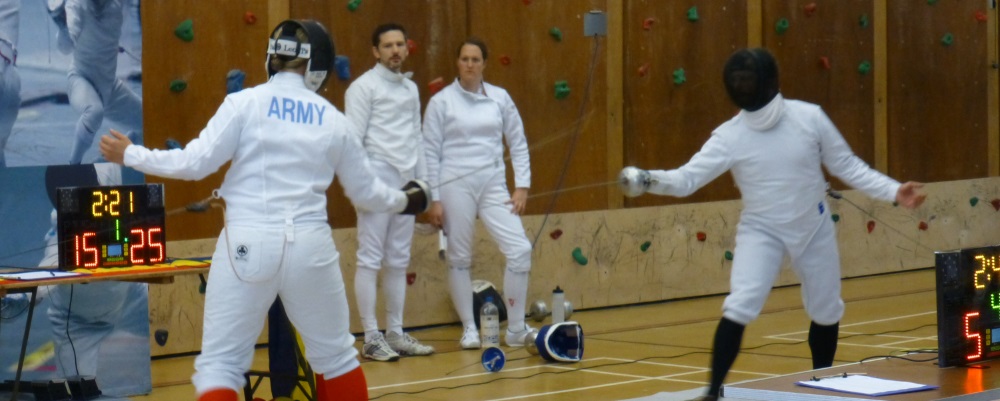 For some, competitions are what fencing is about, testing yourself against the best in the country, even the world, to see how you compare. There are various types and levels of competitions, from the County Championships to World Cups, World Championships and, of course, the Olympic Games; Reading fencers have competed at all of them!
If you want to start competing your best bet is to talk to one of the senior members and ask their advice on where to begin. As a general rule the country or section competitions are a good place to start, with "Open" competitions offering larger numbers with a broader range of abilities.
Fencing for Reading at a competition gives you a great advantage (remember to put "Reading" in the club section on your entry form), as you will have an army of supporters to offer help, advice and cheer you on to victory. Our senior fencers regularly win both local (the BB&O county épée championship has been won by a Reading fencing every year this millennium) and national competitions, and are happy to support and advise you.
Junior competitions
There is a vast array of competitions available for the younger members of the Club, from county all the way to international level, all of them fun and providing competitive experience for the aspiring épéeist.
Youth fencing is usually divided by age groups, with the age of a fencer normally taken as at January 1st of the current year (for example, if a fencer has not reached their 14th birthday on Jan 1st, they are considered Under 14 for the whole of that year). Fencers under 17 are referred to as 'Cadets' (see the cadet's website) and those under 20 are called 'Juniors'. Lots of competitions also use other age-groups, like under 11 or under 13, but these don't have specific names.
The youth ranking schemes are myriad, complex and ever-changing but, as a general rule, if you do well in the competitions described below then you'll do well overall!
The best of the age group competitions in terms of breath are the Leon Paul Junior Serios (LPJS), with under-11, -13, -15 and -17. A good set of local competitions are the , which run under-11, -13 and -16. And for really close to home, keep an eye out on the Southern Region website, with links also to Berkshire, Hampshire and Wiltshire. Other competitions worth consideration are:
Competition calendars
Club competition results
Every month Reading Fencing Club runs its own competition and the results can be found here: